Mobility Direct: ADA Eligibility Certification Technology
The Americans with Disabilities Act (ADA) eligibility process may vary from one transit agency to another, but agencies always have one main goal: ensuring only truly eligible passengers are certified to use costly paratransit services.
For the past 10 years, MTM Transit has been a trusted mobility management partner for more than a dozen transit agencies nationwide, performing in excess of 100,000 assessments on their behalf each year. We deploy our industry-leading ADA eligibility assessment process, which leverages in-person interviews and assessments to determine how each applicant's actual functional and cognitive abilities—not medical diagnoses—impact their ability to use fixed route public transit. To support our model and transit agencies across the nation, our in-house IT and mobility management teams collaborated to develop an innovative platform built for managing ADA eligibility programs.
Recognizing that a fully in-person model may not be the best approach for all agencies, MTM Transit took our comprehensive assessment process and developed a state-of-the-art technology solution that automates the eligibility certification process. Through this platform, MTM Transit offers varying levels of support to help your agency achieve impartial ADA eligibility determinations and compliance–with or without the cost of an in-person team. Dependent on your needs, the platform also offers varying levels of conditional and unconditional certification.
There is no other software on the market like Mobility Direct, which was designed specifically for ADA paratransit certification. While there are other platforms that have features that could potentially enable an eligibility process, these platforms serve as more of a simple CRM for eligibility data, with very limited customization and ability to actually manage a true ADA eligibility process. MTM Transit offers the only ADA eligibility certification technology platform of its kind that ensures fair and appropriate decisions, reduces your administrative workload and paratransit costs, and helps eliminate fraud, waste, and abuse of paratransit services.
What Does the Platform Do?
Our platform leverages MTM Transit's proprietary workflow to guide users through the primary steps of the eligibility process. From initial application intake, to making eligibility decisions and delivering notifications, to ensuring compliance with ADA requirements and reporting, our user-friendly platform creates an intuitive, automated eligibility process for transit agencies of all sizes.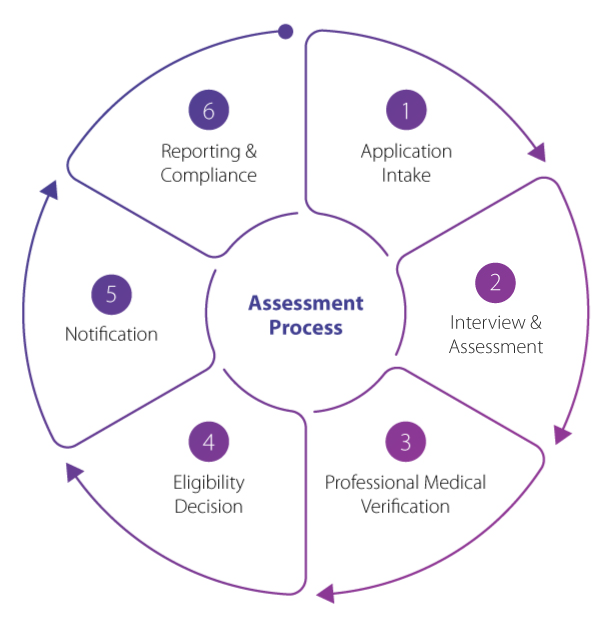 Management of all eligibility functions, from initial application through determination, mailings, appeals reporting, and tracking
Developed by Mobility Management-focused IT professionals and overseen by MTM Transit's expert ADA team
Ability to accurately determine conditional and unconditional determinations
Ensures 100% compliance and adherence to ADA guidelines
Eliminates internal administrative work load processes and the need for specialized, trained staff
Creates an efficient and informative process from both the applicant and assessor perspective
Meets all access and usability standards
HIPAA compliant platform
Impartial application review and determination
Reduce evaluation and paratransit costs
Prevent fraud, waste, and abuse
Options for full agency branding and customization
An Option for Every Agency​
Our customizable and flexible platform works for agencies of all sizes with varying budgets and needs. If your agency has the team to manage the eligibility process and just needs a platform to automate the process, the platform is available for purchase as customized standalone software, backed by IT support from our in-house team. As an extra level of service oversight, Mobility Direct Plus offers our expert mobility management staff to oversee the eligibility process remotely. Our remote evaluators are trained to manage the entire process from start to finish using methodologies established by National Transit Institute and Easter Seals Project ACTION. Mobility Direct Pro is the most comprehensive approach, offering MTM Transit's industry leading in-person model powered by our platform. Our on-site team conducts in-person interviews and physical/cognitive functional assessments to thoroughly determine how environmental, architectural, and personal barriers may impact an applicant's ability to safely and independently access public transit.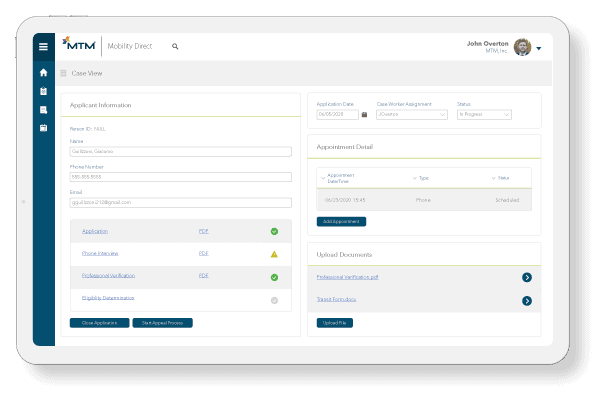 | Features & Specs | Mobility Direct | Mobility Direct Plus   | Mobility Direct Pro |
| --- | --- | --- | --- |
| Software hosting, upgrades, and IT support from MTM Transit's in-house team | X | X | X |
| Development, customization, and agency branding of the application | X | X | X |
| Ability for applicants to submit applications online | X | X | X |
| Ability for applicants to schedule in-person interviews or assessments online | X | X | X |
| Ability for medical providers to submit verifications online | X | X | X |
| Automated electronic application processing workflows | X | X | X |
| Generation of applicant notifications and determinations | X | X | X |
| Notifications of upcoming re-certifications | X | X | X |
| Ability to export data or create APIs for data transmission to paratransit software | X | X | X |
| HIPAA-compliant database management and document storage | X | X | X |
| Standard reporting package | X | X | X |
| Access to create ad hoc reports | X | X | X |
| Phone interviews conducted by MTM Transit's professional mobility management staff | | X | X |
| Impartial review of ADA applications and medical verifications by MTM Transit's professional mobility management staff | | X | X |
| Remote eligibility determinations made by MTM Transit's professional mobility management staff | | X | X |
| Implementation of conditional eligibility | | X | X |
| Guaranteed compliance with ADA determination timeline | | X | X |
| Appeal research and support | | X | X |
| FTA/ADA audit support | | X | X |
| Custom report creation | | X | X |
| On-site, in-person interviews conducted by MTM Transit's professional mobility management staff | | | X |
| On-site, in-person cognitive assessments conducted by MTM Transit's professional mobility management staff | | | X |
| On-site, in-person physical assessments conducted by MTM Transit's professional mobility management staff | | | X |