Welcome to MTM Transit Talks, where we're bringing you monthly posts from our Chief Operating Officer Brian Balogh! Every month, Brian discusses all things safety, transportation, sustainability, inclusion, and much more. Welcome to the most recent edition, where Brian discusses how our clients benefit from the hands-on client guidance provided by our executive leadership team.
---
Hands-On Client Guidance: Our Approach
MTM Transit's structure is one that fosters creativity and innovation, ensures accountability, and focuses on service excellence and success. Our executive leadership is a modern, woman-led, diverse team of talented leaders who focus on our culture and continually exceed our commitment to our clients. Through our Core Values, our teams are able to lead through example. These five Core Values guide our employees in providing the highest quality customer experience possible and help clients achieve their goals.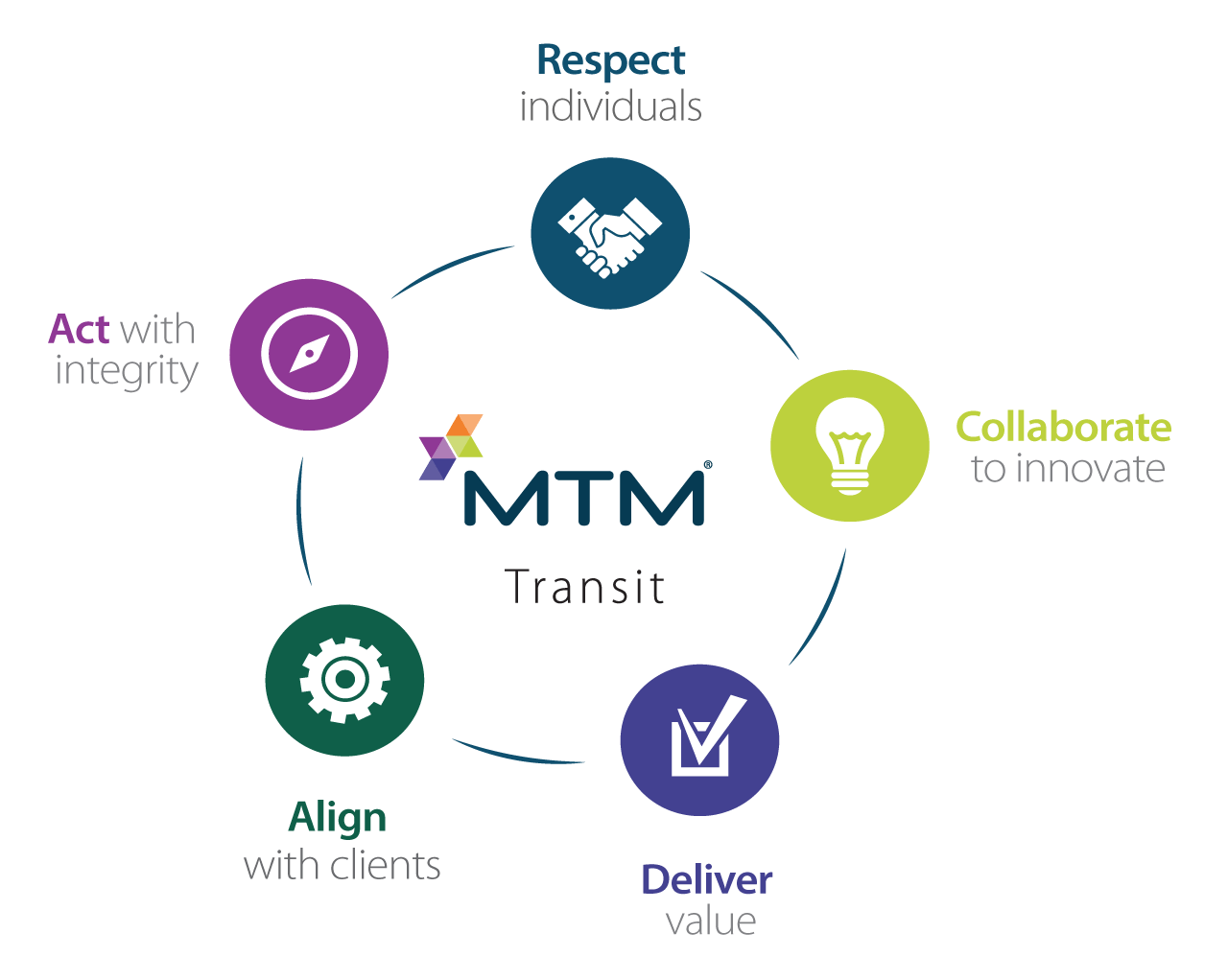 Our CEO (Chief Executive Officer), COO (Chief Operating Officer), and full executive leadership team are a diverse and expert group of professionals who provide support to our entire operational team to execute the plan. Each has a specific role in cost containment, efficiency, and service delivery at the street level.
Field Operations Leadership touch the operation in some way each day, too. This scope of responsibility is crucial to ensure execution and meet expectations within the company. When we partner with a client, we are in the field and engaged. Regional Vice President Jack Hempstead says, "MTM Transit remains engaged with our clients through proactive collaboration. We work with our clients to explore new efficiencies in their transit model through innovations. They want a partner that will work with them to improve the service their passengers receive–and MTM Transit is that partner."
What to Expect From Us
When you work with MTM Transit–or any transportation vendor–here's what you should expect the vendor's leadership team to do:
Design and implement strategies, processes, and procedures
Set comprehensive goals and KPIs for performance and growth
Promote company culture, with a focus on DEI and sustainability
Oversee and direct daily operations (sounds obvious, but is it?)
Leadership, coaching, and development of the operations team
Deliver reporting, data analytics, and interpretation
Manage relationships, both internal and external
MTM Transit's clients benefit from our progressive leadership team that is actively involved in the daily operations of our contracts, from the top down. Our team is focused on the health and welfare of our employees while also availing themselves to our clients. Through innovative technology, sustainable efforts, team building exercises, and more, our team does everything it takes to successful collaborate with our clients and passengers. Through our team, we see a better and brighter future for the transit industry.