Job hunting isn't always the easiest experience. That's why MTM Transit tries to make the process simple and easy! We create a culture of work-life balance, healthy living, and strategic career advancement that promotes our Core Values.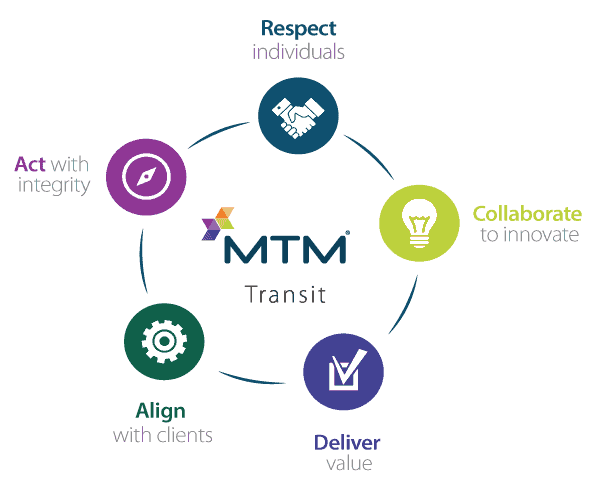 But why should you consider a career at MTM Transit? Here are three reasons why we think you would love to be a part of our team!
Inclusive and Collaborative Work Environment
We treat our team members like family, which is why we focus on inclusive and collaborative work built off our Core Values. We are proud to be an Equal Opportunity Employer and have a formal Diversity, Equity, and Inclusion program, as we value diversity and embrace the advantages that come with it. Not only does inclusivity support the work environment we promote, but it helps us to better understand the diverse populations we serve. Our knowledgeable workforce helps us continually take the steps needed to work towards our vision of communities without barriers, ensure every trip is important, and live out our Core Vales.
Focus on Growth, Health, and Wellness
We are committed to supporting our employees through many different health and wellness opportunities. We provide physical activities and wellness opportunities, such as our IncentFit program, which challenges you to stay healthy and active daily for rewards. We've been recognized with several health and wellness awards, like the American Heart Association's Fit Friendly Worksite Recognition, the St. Louis Business Journal's Healthiest Employers, and the Business Journal's Best Place to Work, all in support of our goal to keep our teammates healthy inside and outside of the workplace.
Total Rewards Program
Along with MTM Transit's incredible health benefits, we like to reward our employees with additional incentives for achieving their goals and creating successful opportunities within the company. From paid holidays, birthdays off, and flexible schedules, to our milestone leaves and ongoing training, we offer more than just a paycheck. We firmly believe that involvement in sponsored events and community service is rewarding in itself, and encourage our employees to be a part of a community that strives towards equality, sustainability, and our overall goal of communities without barriers.
Are you ready to kick start your career at MTM Transit? Whether you're looking for a gig as a driver, mechanic, safety coordinator, or general manager, we have great options for you around the country! Click here to check out our open positions and submit your application today. We can't wait for you to join our team!