This summer, MTM Transit implemented a new safety initiative: the ZAP (Zero Accident Philosophy) Program. Led by our safety mascot ZAP Man, every month, we recognize our ZAP Manager of the Month. The Manager chosen each month to receive this honor embodies our safety initiatives and shows a strong commitment to safety in all facets of their job. We're proud to introduce our first ZAP Manager of the Month for July 2020: Max Isbell, Assistant Maintenance Manager at our Austin South ADA paratransit operation in Texas!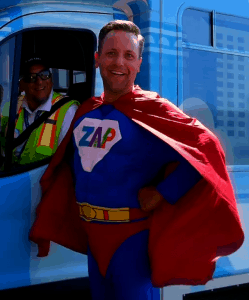 Max was chosen as our first recipient of this award thanks to his continuous support of our safety needs in Austin. He is a true safety champion who always thinks about the safety of his co-workers. Some of the initiatives he takes at our Austin location include:
Leading regular safety blitzes and briefings to encourage safety among all staff
Putting up safety signage throughout our facility
Ensuring vehicles are spotless and clean, especially during the COVID-19 pandemic
Walking through the facility daily to identify hazards and help eliminate potential slips, trips, and falls
Maintaining PPE inventory to ensure our drivers are always prepared to safely serve Austin MetroAccess passengers
"Max Isbell is a go-getter who always puts safety first for himself and his team," said Austin South General Manager Ricardo Boulware. "He leads by example and is fully engaged in our safety programs, making safety, fun, fresh, and exciting for our location. His ideas and creativity have directly impacted our safety results and performance. We are glad to have him on our team!"
Congratulations Max! Keep up the great work!